The Harmonious Life of Egrets
  The Harmonious Life of Egrets is one of the ten new scenic spots of Seven Star Cave, where can be best appreciated in Fairy Lake of Xiao Lan Gang.
  In Red-crowned Crane Ecological Park, there are more than 50 red-crowned cranes in elegant and dignified figure. They sometimes gently dance with their slender and beautiful necks, sometimes gracefully stand and sometimes lightly stroll. They sing or fly to welcome visitors from all over the world.
  There are several natural islands for migrant birds in Fairy Lake, consisting of four isles: Cang Zhu, Yao Yu, Yun Qi and Lesser Yingzhou. These four isles, the near Zhaoniao Island and the water area measured by 150-meter radius around the isles are jointly set as Absolute Ecological Protection Area. Thousands of white or grey egrets, night herons and other birds nest and reproduce on the isles, where trees flourish as well. Thanks to ever beautiful views and proper climate, Seven Star Cave is praised as Earthly Big Dipper and Paradise for Migrant Birds who are probably fond of listening to moved stories told by Goddess of Rice and safeguarding this beautiful paradise with her.
  Fairy Lake is a significant component of Star Lake Wetland Park, well-known for its positive energy, simplicity and nature, where the lake is wide and the water clear. Besides, there are many isles. The best way for visit is by boat. When the boat floats on the lake, you will listen to a song composed by comfortable breeze and babbling water. After that, tiredness and annoyance magically disappear, while all left is purity and peace in your heart. Fairy Lake makes you experience your original nature and pure pleasure in the earthly paradise with positive energy.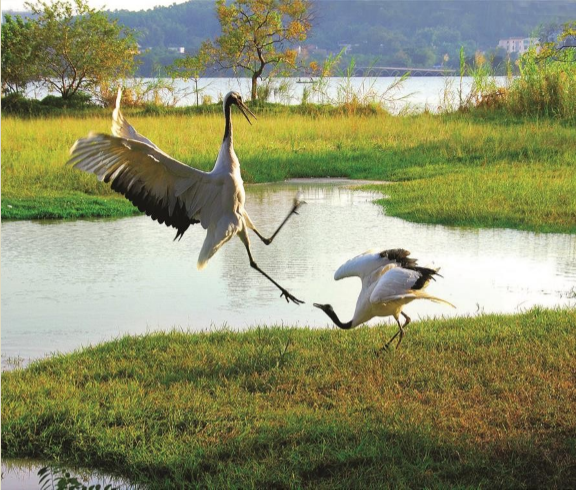 Organizer: guangdong zhaoqing xinghu scenic spot administration
Address: guangdong zhaoqing city civilization north road no. 1